This payment method is available at both the self-checkout lane and cashier queues.

For self-checkout :
Step 1. Select "Earn LinkPoints and Pay via FairPrice app" on the screen.
Step 2. Launch Payment via FairPrice app and scan the payment QR code.

Step 3. Select Payment type as "Pay via FairPrice app"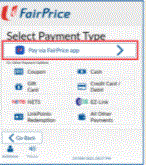 To use this payment method at the cashier, inform the cashier that you would like to make payment via the FairPrice app in-store during checkout.